Sport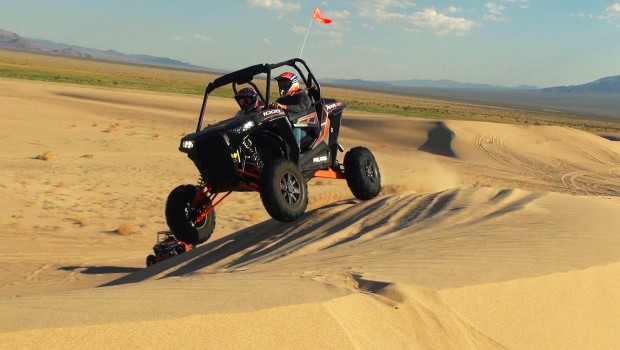 Published on July 1st, 2014 | by Joe
0
2014 Polaris RZR XP 1000 Long Term Test: with VIDEO
Our nine month review of the hottest UTV on the market. PLUS, suspension setup tips every XP owner needs to know!
Polaris got ahead of the competition in 2008 when they invented the mass-produced, pure-sport UTV market with the original RZR 800. They have since been giving enthusiasts to replace, upgrade, or get into side-by sides by continuously offering new models and upgrading existing ones.
There were a lot of frustrated RZR XP 900 owners out there this year with one to two–year-old machines. With the arrival of the 2014 RZR XP 1000, if you wanted the hottest sport UTV on the market, your 900 was going up for sale. With the arrival of the Arctic Cat Wildcat and Can-Am Maverick, 1000's were big news, but lacked the hype of the XP 1000.
So, was the XP 1000 worth the hype? We turned our 1000 test unit over to Allen Knowles from CT Racing to find out, in addition to providing us with his setup tips for the stock car.
XP 1000 Experience
With his wife recently retired from a national championship-winning career of showing horses, Allen and Roxanne Knowles spent the last nine months sport driving and recreating in the XP at various ride destinations around Southern California, racking up over 1000 miles on our car. Their adventures have taken the RZR from the Dunes of Dumont, to the desert of Ocotillo Wells, and up into the Sierra Nevada Mountains, giving both Mr. and Mrs. Knowles lots of drive time in the RZR on which to report.
107hp Motor
Polaris claims the RZR XP's 999cc ProStar 1000 engine puts out 107HP. That's 21HP more than the formidable RZR 900. The water-cooled, parallel-twin, four-stroke engine features four-valve, double-overhead cam heads. With a compression ratio of 10.5:1, Polaris claims the engine's combustion chambers have been calibrated to run on 87 Octane fuel. Water and airflow around the cylinder are also said to be optimized for maximum cooling. We stuck with cleaner burning, cooler running , premium pump gas. Premium pump gas will also store longer without a fuel additive. EFI regulates air/fuel flow, delivered by dual throttle bodies. Long-tip fuel injectors are claimed to help fuel burn more efficiently.
The transmission features high and low forward ranges; plus neutral, reverse, and park. The drive system features Polaris' signature 2WD/AWD setup. The AWD system in the 1000 was designed to engage faster and to provide full torque to all four wheels. The engine and drive train are claimed to propel the machine from 0-50MPH in 5.33 seconds.
The Prostar 1000 makes power right off idle and pulls well throughout the RPM range. From the lower RPMs through the midrange, the 1000 pulls notably harder than the 900. The extra torque is beneficial when crawling along, or clawing your way up a huge incline. The low-end power, combined with the ample midrange power, lets the 1000 rip out of corners and up steep dunes. Throttle response is quick, allowing you to lighten the front end for whoops and jumps.
Top-end power is good, but doesn't feel much more potent than the 900. This could be due in part to the 1000's 1,379 dry weight, which is 175 pounds more than the 900. The difference is the result of a more gnarly chassis and suspension, so it's worth the weight.
The 1000 has no trouble reaching its 75MPH top speed. It's engine controllable, yet thrilling to drive when you hit the gas. The larger displacement of the 1000 also allows its performance to hold up better under the weight of being accessorized. Allen praised the relocated airbox, now found between the seats and the bed ,which does a much better job of keeping dirt out of the box and motor than the one on the 900. Fuel capacity has been increased to 9.5 gallons, although the range of the tank seems close to what we were getting out of the 7.25 gallon tank on the 900 at around 100 miles.
Chassis and suspension
The 1000 features an all-new and tougher chassis. The vehicle's dimensions are focused on high-speed rough-terrain performance. Its 90-inch wheelbase is 8.6 inches longer than the RZR 900's, although it remains 64 inches wide. Dual a-arm front suspension and trailing-arm rear suspension deliver 16 and 18 inches of travel respectively.
Walker Evans', anti-bottoming needle shocks control wheel travel and are claimed to offer a bottomless feel. Both ends feature preload and compress damping adjustment. The front shocks utilize two-inch bodies with piggyback nitrogen reservoirs. The rear shocks have larger 2.5-inch bodies and massive remote reservoirs for additional cooling. The reservoirs are mounted high in the bed keeping them out of harm's way and allowing for easy adjustment.
Electric power steering comes standard on the RZR 1000, easing steering effort, most notably at slow speeds where you need it most. The other benefit of EPS is a notable reduction in bump feedback felt through the steering wheel. There are no multiple-performance settings on the RZR's power steering. You just get in, fire the car up, and the EPS performs flawlessly regardless of driver.
New, exclusive 29×9-14 front and 29×11-14 rear Maxxis Bighorn tires feature larger sidewalls and 6-ply construction for improved flat resistance, while their larger air volume is said to enhance ride quality. The tires come mounted on sharp looking, cast aluminum, mag wheels. The taller tires and longer suspension travel provide 13.8 inches of ground clearance.
You can cruise around in two-wheel drive and the RZR will do a good job of going where it's pointed, but when you start pushing it hard through corners, the machine works best in AWD. With power to all four wheels, you can get in the gas harder in turns. The front tires pull you through turns with less pushing in loose sections, and the rear end steps out less unexpectedly.
Making the most of the stock suspension takes some adjustment. Out of the box, the machine has a lot of body roll and the ride is a bit harsh over small bumps. Allen reduces preload on both ends to lower the car one inch from stock front and rear. Doing this lowers the machine's center of gravity for flatter cornering. Doing this doesn't soften the shocks' spring rate, due to their dual-spring setup. Walker Evans Racing sells a set of crossover nuts for the front shocks for $__ a pair, which will allow you to change the crossover point between the front shock's tender and main spring. Setting the crossover up to get on the stiffer main spring sooner will help fight front-end roll. Without the crossover, we set our front shock's compression three clicks out from full stiff to help fight body roll. For the rear shocks, we backed compression all the way out and went in three clicks to soften them up for better, small bump compliance.
Dialed in, the RZR handles much better through the turns, but still doesn't corner quite as flat as the 900. However, the 1000 eats whoops for lunch that would have the very good RZR 900 bucking and kicking. For extreme rock crawling, the taller ground clearance and added articulation of the 1000's extra wheel travel are big assets.
SUSPENSION SETUP
Ride Height: Lowered 1in from stock front and rear to reduce body roll
Compression Damping Front: Turn compression adjuster all the way in clockwise, then back out three clicks. This setting helps further reduce body roll.
Compression Damping Rear: Turn compression adjuster all the way out counter clockwise, than back in three clicks. This will reduce harshness on small to intermediate size bumps.
Additional Tip: Walker Evans Racing offers a crossover for the front shocks that allows you change the crossover point of the springs. Getting the front shocks on the main spring sooner further reduces body roll.
When the whoops turn into jumps, the RZR 1000's suspension does a great job of soaking up landings. There are few vehicles that can soak up air with the ease of the RZR 1000. Sitting down in the travel, the suspension bottoms easier on crushing high-speed g-outs, but rarely bottomed harshly in the 9 months the Knowles have been testing it.
Brakes
Dual-piston caliper-equipped brakes at all four corners slow the 1000. Steel-braided brake lines enhance power and feel. The brakes offer excellent stopping power whether you are trying to stop in a hurry, or control the vehicle's momentum on a steep downhill. Al's one complaint regarding the brakes is that there is a small delay between when you let off the brakes and get back into the throttle. This is designed to keep you from applying full power while applying the brakes for improved durability; however, it holds you back a bit when using an aggressive two-foot driving style.
While there is no active engine braking system on the RZR, the engine does offer a good amount of engine braking with the smallest amount of throttle to keep the clutch engaged. Doing this on an ATV can be intimidating, but it seems easy in a side-by-side.
Interior and Ergonomics
The RZR is full of small details that add comfort to the 1000, starting with the half doors that work well and add a touch of security. With no lower half, they don't offer a ton of splash protection. There are new bolstered seats and a bit more legroom than previous RZR models, although at 6'4", Allen wanted more. Thanks to the automotive style adjustment slider on both seats, Al and Roxanne didn't need to remove and switch their seats every time they switched places in the cockpit to accommodate their different heights. The steering wheel offers 10 inches of tilt adjustment; there are foot rests in the floor on both sides; and there is the passenger grab handle, which most occupants like, but Roxanne likes to remove, mostly due to the fact that they installed four-point harnesses early on. Removing the grab handle, or adjusting its reach, is easy, and the stock anti-cinch, three-point seatbelts are pretty comfortable.
There is a center-mounted iPod locker, which doubled as a place to mount a communications system for the Knowles, or could offer a place to mount an in-dash stereo. The glove box is welcomed; however, its crummy door is not. Blue backlit gauges and LED interior lighting offer a cool, modern look. When hosing dirt and debris out of the cabin, the floor-mounted drainage holes with removable plugs are super convenient. The 1000 offers a higher level of comfort and convenience than any of its RZR predecessors for sure.
Durability
With multiple weekend trips and over 1000 miles under the heel of a former pro quad racer, Al reports that the RZR has held up wonderfully. Other than a few flats caused by poor line selection by the driver, the engine has been issue free and the chassis remains tight. We have heard of some seemingly premature ball joint and bushing wear from RZR 800 drivers back East, but we think that is due, in part, to the amount of water and mud machines are subjected to in the East. Through the dry beatings of the California desert and dunes, our 1000 is proving to be pretty tough.
Conclusion
While there will be those who balk at the RZR 1000's nearly $20.000 price tag, you'd spend a fortune trying to make any other type of multi-passenger vehicle cover as much rough terrain as quickly, with the same level of comfort. The upgrades in engine power, suspension performance and travel, plus power steering and interior comfort, make the 1000 an easy choice for West Coast drivers, or those looking to build the ultimate race machine. On the other hand, the $4000 less expensive price tag and 8.6 inch shorter wheelbase of the RZR 900 may still make the 900 a very viable option for East Coast wide-trail riders who might want to trade a little engine performance for a slightly tighter turning radius.
Working together daily, you would think that the Knowles would appreciate some time apart; however , the fun, thrills, adventure, and relative safety of the RZR 1000 has them looking forward to spending more time together. While ride-on ATVs weren't for Roxanne, the 1000 has her planning weekend trips and bringing Al along for the ride. Side–by-sides have always been about having fun together, and the RZR 1000 delivers a level of fun that never gets old.
Machine: 2014 RZR XP 1000
Manufacturer: Polaris
Base Price: $19.999
ENGINE
| | |
| --- | --- |
| Engine Type | 4-Stroke DOHC Twin Cylinder |
| Displacement | 999 cc |
| Fuel System | Electronic Fuel Injection |
DRIVETRAIN
| | |
| --- | --- |
| Transmission/Final Drive | Automatic PVT P/R/N/L/H |
| Drive System | On-Demand True AWD/2WD |
| Engine Braking System | Not Equipped |
| Active Descent Control | Not Equipped |
SUSPENSION
| | |
| --- | --- |
| Front Suspension | Dual A-Arm Walker Evans 2″ Needle Shocks (comp adjust/res.) 16″ (40.6 cm) Travel |
| Rear Suspension | Trailing Arm Walker Evans 2.5″ Needle Shocks (comp adjust/remote res.) 18″ (45.7 cm) Travel |
BRAKES
| | |
| --- | --- |
| Front/Rear Brakes | 4-Wheel Hydraulic Disc with Dual-Bore Front & Rear Calipers |
| Parking Brake | Park in Transmission |
TIRES / WHEELS
| | |
| --- | --- |
| Front Tires | 29 x 9-14; Maxxis Bighorn |
| Rear Tires | 29 x 11-14; Maxxis Bighorn |
| Wheels | Cast Aluminum |
DIMENSIONS / CAPACITIES
| | |
| --- | --- |
| Wheelbase | 90″ ( 228.6 cm) |
| Dry Weight | 1,379 lbs (625.5 kg) |
| Overall Vehicle Size (L x W x H) | 119″ x 64″ x 73.75″ (302.2 x 162.6 x 187.3 cm) |
| Ground Clearance | 13.5″ (34.3 cm) |
| Seat Height | N.A. |
| Fuel Capacity | 9.5 gal (36 L) |
| Bed Box Dimensions (L x W x H) | 28 x 22 x 7″ (72 x 57 x 17.8 cm) |
| Front/Rear Rack or Box Capacity | N.A./300 lb (136.1 kg) |
| Payload Capacity | 740 lb (335.6 kg) |
| Hitch Towing Rating | N.A. |
| Unbraked Trailer Towing Capacity | N.A. |
| Hitch/Type | None |
| Cooling System | Liquid |
FEATURES
| | |
| --- | --- |
| Cargo System | Lock & Ride |
| Lighting | White LED, High/Low & Red LED Tail/Brake Lights |
| Electronic Power Steering | Standard |
| Instrumentation | Digital Gauge: Speedometer, Odometer, Tripmeter, Tachometer, Coolant Temperature, Volt Meter, Hour Meter, Service Indicator, Clock, Gear Indicator, Fuel Gauge, Hi-Temp Light, Seatbelt Reminder Light; DC Outlet |
2014 Polaris RZR XP 1000: Ratings
Summary: While there will be those who balk at the RZR 1000's nearly $20.000 price tag, you'd spend a fortune trying to make any other type of multi-passenger vehicle cover as much rough terrain as quickly, with the same level of comfort.