First Looks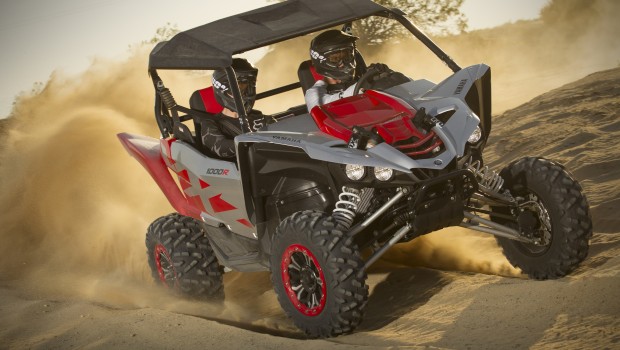 Published on March 28th, 2016 | by Joe
2016 Yamaha YXZ1000R SE First Look and Ride: WITH VIDEO
Yamaha's YXZ1000R is certainly one of the most anticipated machines in UTV history and a lot has happened in its short 7-month existence. In Sept 2015, we were introduced to the YXZ at its world launch in Long Beach, California. Two-months later, we were given an opportunity to test drive the car at the Glamis Sand Dunes in Southern California. In our test of the machine we found the 998cc, triple-cylinder engine fast and thrilling to drive. With a power-band focused on the upper-third of the RPMs, the YXZ keeps you on your toes, although its silky smooth, five-speed manual shift transmission with reverse makes it easy to keep the engine on the pipe and pulling hard. Handling is stable and predictable with light steering effort. Suspension performance is seemingly bottomless, well-rounded, and pretty adjustable. Attention to detail is top notch with a comfortable and well-appointed cockpit, including full doors. If you haven't already, make sure to watch our world premiere coverage and first full test of the YXZ1000R.
Along with being well-received by us in the media, the YXZ1000R has already begun to find success in racing, in spite of its competitors having a couple years' head start in setting up their cars. In its first Factory Yamaha-backed appearance, Dustin Nelson took 1st place in the Production Pro Class at the 2015 Lake Elsmore GP. In 2016, Dustin Nelson and Corry Weller have been cleaning up, trading wins in the Lucas Oil Off-Road Regional Series in both Southern California and Arizona. Aftermarket companies are just getting started rolling out customization and performance parts, so the YXZ is only going to get better with time.
The first YXZ1000R to hit the market was the company's 60th Anniversary, Yellow and White, Special Edition model. In December, Blaze Orange and Yamaha Racing Blue/White models became available adding two additional looks and slightly lower MSRPs of $19,799 and $19,999 respectively. Just three-months later, Yamaha is at it again, rolling out a new Special Edition YXZ1000R, featuring a Silver Metallic/Red color scheme with big, bold YXZ Graphics. We find its look slightly reminiscent of the company's White and Red racing colors of the late 80s and early 1990s.
So what's so special?
Yamaha brought us out to the Superstition Mountains, near Glamis in Southern California to introduce us to the new Silver and Red Special Edition YXZ1000R. The terrain featured wide-open sections, whooped-out beamed trails, and a few moderately paced rocky sections. With plenty of room to let the YXZ's engine rip and lots of corners to shred, the car's performance strengths really had the chance to shine.
Like the rest of Yamaha's YXZ lineup, the SE model is built in their Newnan, Georgia facility. "American jobs" is a very special feature we should all care a lot about. Compared to the other 1000cc class machines, the YXZ already stands out thanks to its industry-exclusive, triple-cylinder engine and five-speed transmission. Like the Yellow and White 60th Anniversary Edition, the new Silver Metallic and Red YXZ1000R farther stands out from the crowd with its true beadlock wheels. The wheels, control arms, and striking red and black interior are all color matched to the car's red and silver metallic painted bodywork. With the big, bold YXZ logo on the side, it is perhaps the most striking looking machine of the bunch, with the performance to match, all coming for the same MSRP as the White and Yellow SE model at $21,599. We know looks are a matter of taste and apparently so does Yamaha, with the new Silver and Red SE model offering a fourth unique look to choose from.
Added Versatility
A number of our subscribers have asked us to do a trail test of the YXZ1000R to see how it performs on tighter, wooded trails. Rest assured, we want to bring that test to you. Until then, it's worth noting that the manual transmission, clutching experts at Recluse offer an accessory auto-clutch kit for the YXZ. We've tested their clutches on sport ATVs in the past. Based on our experience, we believe a Recluse clutch could make a fine addition to the YXZ, allowing you to crawl along without the need to slip the manual clutch in technical low-speed sections. Just make sure you're in close to the correct gear for your particular satiation to maximize clutch plate durability. The Recluse  kit should add some versatility and ease of operation for tight trails or for those who simply prefer relaxed one-foot driving.
Conclusion
We remain very impressed with the performance of the YXZ as a machine that seems clearly focused on aggressive, sporty driving first and foremost. If that's the type of driver you are, then the YXZ will most likely impress you as well. With the addition of the Silver Metallic/Red Special Edition model, Yamaha has all the primary colors covered in one very unique, high-performance machine. If speed is what you crave, pick your favorite color and go!
Manufacturer: Yamaha
Model: 2016 YXZ1000R SE Metallic Silver/Red
MSRP: $21,599