New Product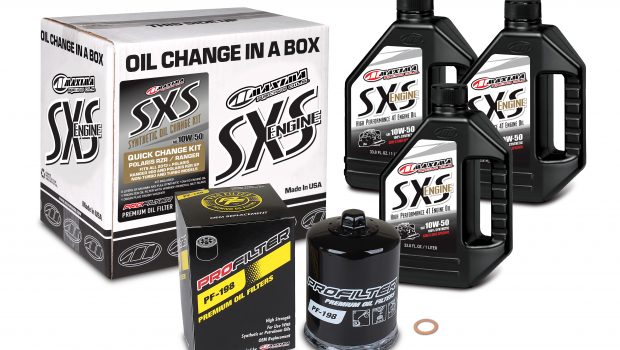 Published on September 5th, 2019 | by Maxima
Maxima Introduces their OIL CHANGE IN A BOX
Kit includes all products necessary to complete an oil change on your Side-by-Side. Engine oil, ProFilter oil filter and a drain plug crush washer.
SxS Quick Change Kit 10W-50 or 5W-50 Synthetic w/ Black Filter, RZR Kit contains the following:
3 liters of Maxima SxS Full Synthetic Engine Oil
1 ProFilter Oil Filter with Wrench Removal Nut: (PF-198)
1 Drain Plug Crush Washer
Applications: 2013+ Polaris RANGER 900 and 2013+ Polaris RZR XP non-turbo and turbo models with more coming soon.
Maxima SxS Full Synthetic engine oil is an ester-fortified 4-stroke engine oil specifically formulated for side-by-side (SxS) engines. Synthetic, oxidatively-stable formulation combines surface-active esters with a shear-stable polymer system to provide excellent film thickness and viscosity stability across all operating temperatures. Advanced, proprietary additive system reduces temperatures and increases power output while keeping your engine running clean, trouble-free and extending the life of the machine. Exceeds the requirements of API SL / JASO MA2.
ProFilter Premium Spin-On Oil Filters feature M-Pleat technology, a structural paper design allowing for larger filtration area and greater capacity to hold contaminants, extending filter life by 20-30%. Silicone Anti-Drain Back Valve to allow optimum oil pressure to be obtained quickly, reducing the time for oil to reach critical areas at start-up. 17 MM Hex Wrench Removal Nut come standard for easy removal and pre-drilled for safety wiring. 100% Leak tested. Pre-lubricated gasket to ensure optimum seal to the engine.
Meets or exceeds all manufacturers' specifications and will not void your new vehicle warranty
SxS Quick Change Kit 5W-50 Synthetic w/ Black Filter, RZR (Part # 90-189013)
SxS Quick Change Kit 10W-50 Synthetic w/ Black Filter, RZR (Part # 90-219013)
MSRP: $51.99
For more info or to order visit: maximausa.com