New Product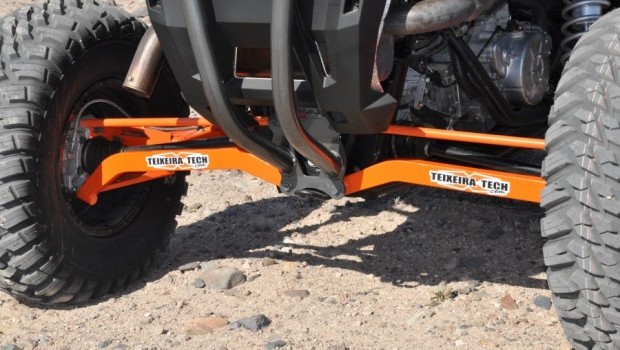 Teixeira Tech, Unveils NEW RZR XP 1000, XGC A-Arms and Radius Rods
Developed to deliver exceptional strength and the additional ground clearance RZR 900 and 1000 owners need.
Teixeira Tech is proud to unveil our new X-Treme Ground Clearance A-Arms and Radius Rods for the Polaris RZR and RZR 4, XP 1000. While we are currently best known for our sport ATV chassis components, Teixeira Tech isn't new to UTVs. We spent over two years developing our XGC A-Arms and Radius Rods for the RZR 900 and throughout the past nine months we've remained busy developing and rigorously testing XGC components for the new RZR 1000.
We construct our chassis parts with TIG welded 4130 chromoly in precision built jigs. With the shock mounting points in the same location as stock, there's no need to spend thousands of dollars modifying or replacing them.
XGC A-Arms
Our XGC A-Arms are designed to deliver X-Treme ground clearance over the widest possible area. They're constructed with light-weight, 1 ¼ inch, chromoly tubing for superior strength and rigidity. They accept stock or OE size replacement bushings and work with stock, or optional heavy-duty Frap Ball Joints. Currently available as lower a-arms only, Teixeira Tech will soon be offering chromoly, replacement upper arms, available by themselves, or as a complete set with our XGC lower A-Arms.
XGC Radius Rods
Like our A-Arms, our lower radius rods are designed to deliver X-Treme ground clearance over the widest possible area. Their Boxed I beam design provides superior strength, rigidity, and lighter weight compared to other ground clearance radius rods with a tubular design. The rods come complete with U.S. Made, high strength, PTFE lined rod ends and corrosion resistant stainless steel reducers.
Our upper radius rods are constructed of 1 inch chromoly tubing. Along with being lighter than the stock rods, they can withstand three times the pressure before bending. Threaded Heim joints at the end of the rods allow you to adjust the rear wheel's camber, (the amount the wheels lean in at the top) to help fine tune the handling of the car. Our lower and upper radius rods can be ordered individually, or as a complete set.
Like all of our chassis components, our XGC A-Arms and Radius Rods are available in a number of powder coat colors, or chromed, to suit the look of your machine.
Pricing Starting From:
XGC Lower A-Arms, $395.00
XGC Lower Radius Rods, $365.00
Upper Radius Rods, $235.00
Teixeira Tech products can be found at dealers across the country and around the world, or directly at www.teixeiratech.com, 209-833-9160, or info@teixeiratech.com