Chassis/Suspension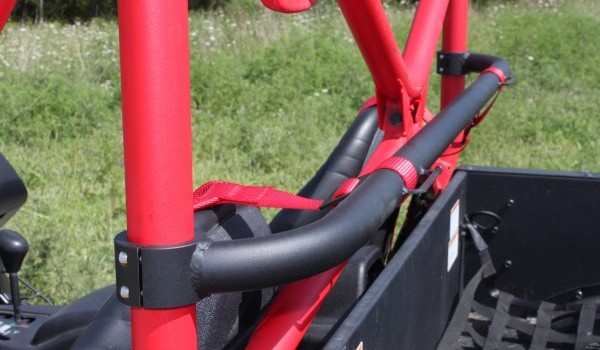 Published on September 10th, 2012 | by Joe
0
UTV Giant Yamaha Rhino and Kawasaki Teryx Harness Bar Review
If getting from the house to the barn is primarily what your side by side is used for, the stock three point seat belts are adequate. If ripping through fields, charging trails, and occasionally getting some air are more your speed, four-point seat belts are the first addition you'll want to make to your side by side. As two of the earliest sporty side by side designs, the very popular Yamaha Rhino and Kawasaki Teryx, don't feature a rear crossbar on the roll cage where four point harnesses can be mounted. Fortunately, UTV Giant has a solution.
Going to the Bar
UTV Giant, an online UTV and side-by-side accessory supplier, offers a harness bar for the Teryx and Rhino that are designed and built in Southern California. The bar features steel construction and mounts to the cage with half circle clamps and four large allen head screws per side.  The built-in belt guides can accommodate up to 3-inch straps and keep the harness'es shoulder straps in line with the occupants. The bar can easily be raised or lowered to adjust the shoulder strap mounting point. UTV Giant offers their harness bar in a wrinkle black, Kawasaki Red, or Kawasaki Green powder-coat finish for the Teryx, and Red, green, blue, silver, plus black and burgundy powder-coats with graphics.
The Test
We recently installed a UTV Giant harness bar on to our Kawasaki Teryx Sport in order to use our four point harnesses. The average Joe can easily install the UTV Giant crossbar in about 10 minutes. One of the advantages of the bolt-on harness bar is that it can be raised or lowered letting you set the rear mount-point height for maximum comfort.
Four point harnesses made going fast in the Teryx safer, far more comfortable and thus, more fun for both occupants. The UTV Giant harness bar makes installation of a four-point harness possible and we suspect that it adds a bit more rigidity to the stock roll cage.
The Verdict
Want four-point harnesses in your Rhino or Teryx? You need the UTV Giant harness bar. It's easy to install, works as advertised, and should never wear out. We couldn't ask for more.
Manufacturer: UTV Giant
Product: UTV Giant Harness Bar
Price, $119-129