First Looks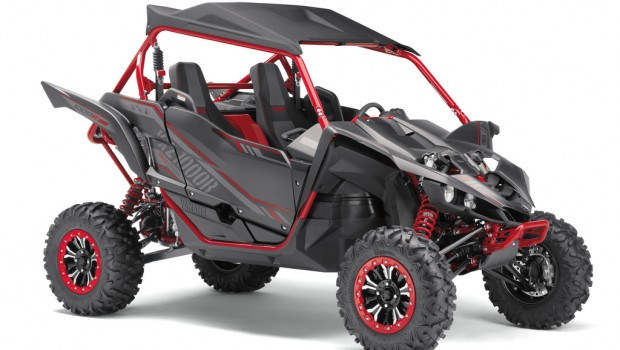 Published on June 8th, 2016 | by Joe
0
Yamaha Introduces 2017 YXZ1000R SS with Sport Shift Technology and YXZ1000R
New YXZ1000R Sport Shift Features Automatic Clutch and Paddle Shifting

Story and photos by: Yamaha
Videos by: Fox Racing Shox and UTV on Demand
Innovating again this year, Yamaha introduces the new 2017 YXZ1000R SS (Sport Shift), the first and only SxS vehicle to combine pure-sport driving performance with an exciting and high-tech paddle shifting experience.
Boasting the same industry-first 3-cylinder 998cc engine and unparalleled direct-connection feeling as the original YXZ, the YXZ1000R SS features Yamaha's all-new confidence-inspiring Sport Shift transmission. The SS technology is defined by a 5-speed sequential shift manual transmission boasting an advanced automatic clutch and pure-sport inspired paddle shifters – eliminating the need for both the clutch pedal and taking your foot off the gas during shifting.
The pure-sport inspired paddle shifters on the YXZ1000R SS are mounted to the steering column and are synched to the Yamaha Chip Controlled Shift (YCC-S) technology, an advanced automatic clutch system that eliminates the need for a clutch pedal. This allows a wide range of enthusiasts on a variety of terrain to enjoy the pure sport performance and direct connection of the world's first and only manual transmission SxS.
The shift sequence – shift up with the right paddle and shift down with the left paddle – is designed to be highly intuitive for drivers, even if they are not familiar with operating a manual transmission. The YXZ1000R SS delivers a fun and exciting experience beyond what one would find in everyday automobiles with paddle shifters. The Sport Shift system incorporates features that complement the overall pure sport SxS experience – an auto downshiftfeature assists by automatically downshifting to first gear when the vehicle comes to a stop, even if the driver has not done so manually.
Another exciting and innovative feature on the YXZ1000R SS is the all-new "Launch System," which is exclusive to the Sport Shift experience provides an exciting high-acceleration feeling from stop – similar to "dropping the clutch" in a manual vehicle with a clutch pedal – adding to the direct connection experience and exhilaration.
New for 2017, the Special Edition YXZ1000R and YXZ1000R SS acquire industry-first twin-wall FOX® 2.5 Podium X2 Shocks®. These unparalleled shocks were developed in tandem with Yamaha specifically and exclusively for the new Special Edition YXZ models. They provide ultimate slow speed comfort without sacrificing performance during aggressive driving situations combined with unprecedented adjustability to suit a variety of driving types and preferences. A new level of performance and comfort are achieved by creating completely independent high and low speed compression and rebound adjustment, combined with huge 16.2-inches of front and 17.0-inches of rear travel. Additional features of the X2 shocks include dual adjusters on the upper cap and twin tube structure, dual rate springs with coupling and crossover adjustment, position sensitive damping, and more.
2017 YXZ1000R – The World's First Pure Sport SxS for the High Performance Off-Road Enthusiast
Making its debut to the motorsports world in September of 2015, the wildly successful and highly anticipated pure sport YXZ1000R is available in exciting new color schemes for the 2017 model year. Augmenting the high-end look and feel, the Team Yamaha Blue / White now comes with a color matched Team Yamaha Blue sun top, colored seat stitching, embroidered seats and race-inspired decals. A new YXZ1000R SE in Matte Black shares the same great accoutrements as the YXZ1000R SS SE, including the FOX Podium X2 shocks, yet with the industry-first 5-speed sequential shift manual transmission for ultimate driver-to-vehicle cohesion.
The YXZ1000R was the world's first pure sport SxS, combining the industry's first naturally aspirated three-cylinder 998cc sport engine with the first ever 5-speed sequential shift manual transmission. The YXZ1000R is born of Yamaha's true high-performance DNA – creating a direct connection to the driver and serving up unmatched power and handling characteristics, resulting in a vehicle perfectly positioned as the only choice for the pure sport SxS enthusiast. MSRP on the 2017 YXZ1000R models will be announced this fall.
View additional details on Yamaha's all-new 2017 SxS  lineup online at www.yamahamotorsports.com. Follow Yamaha at www.facebook.com/yamahamotorusa, www.twitter.com/yamahamotorusa or www.instagram.com/yamahamotorusa. To follow Yamaha Outdoors, go to www.facebook.com/yamahaoutdoors, www.twitter.com/yamahaoutdoors or www.instagram.com/yamahaoutdoors. #Yamaha #YamahaJune8 #YXZ1000R #YXZ1000RSS #YFZ50 #YamahaWolverine #YamahaGrizzly #Kodiak700 #YamahaRaptor #YamahaViking #VikingVI #YFZ450R #YamahaOutdoors
About Yamaha Motor Corp., USA
Yamaha Motor Corporation, USA, (YMUS) a leader in the motorsports market, makes the toughest, most capable and versatile ATV and Side-by-Side vehicles. The company's ever-expanding product offerings also include motorcycles, outboard motors, personal watercraft, snowmobiles, boats, outdoor power equipment, accessories, apparel and much more. YMUS products are sold through a nationwide network of dealers in the United States.
Headquartered in Cypress, Calif., since its incorporation in 1976, Yamaha also has facilities in Wisconsin and Georgia, as well as factory operations in Tennessee and Georgia. For more information on Yamaha, visit www.yamahamotorsports.com.